Anything can happen once upon a con…
When geek girl Elle Wittimer sees a cosplay contest sponsored by the producers of Starfield, she has to enter. First prize is an invitation to the ExcelsiCon Cosplay Ball and a meet-and-greet with the actor slated to play Federation Prince Carmindor in the reboot. Elle's been scraping together tips from her gig at the Magic Pumpkin food truck behind her stepmother's back, and winning this contest could be her ticket out once and for all—not to mention a fangirl's dream come true.
Teen actor Darien Freeman is less than thrilled about this year's ExcelsiCon. He used to live for conventions, but now they're nothing but jaw-aching photo sessions and awkward meet-and-greets. Playing Federation Prince Carmindor is all he's ever wanted, but the diehard Starfield fandom has already dismissed him as just another heartthrob. As ExcelsiCon draws near, closet nerd Darien feels more and more like a fake—until he meets a girl who shows him otherwise.
Oh, my goodness..what can I say about this book that hasn't already been said?
A lot of people who I follow have read this and didn't like it, but I am so glad I decided to read it for myself. I had a bad night at work last night and I think this book was the only thing that stopped me from losing it.
The entire time this was me: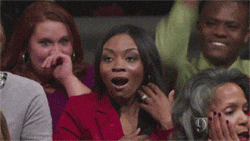 This book was so freaking adorable! I loved it! It followed the Cinderella plot pretty closely and yes, there is some diversity in this book. It was GREAT. I had a couple issues with it, so it's 4 stars but seriously..
GO GET THIS BOOK AND READ IT. NOW.
I received an ARC of this book from NetGalley, all opinions are my own.